Fabio Mugnaini
Mazzasprunigliola. Tradizione del racconto nel Chianti senese (The Brier Maiden. Tradition of story in Chianti of Siena). In Italian. Preface by Rudolf Scenda. Torino 1999. 303 pp.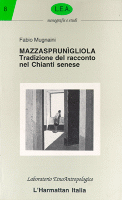 The title of the book has been borrowed from a narrative The Brier Maiden.The author notes:
This story like any other such story embraces a special beauty quite different from what we usually experience in fairy tales. This beauty and idiosyncrasy touch us very closely but may also surprise us, tell us about lifestyles, social circumstances and opinions, and teach us what existence is. Or at least give some flavour to it. This is what the the goal of this book is.
Rudolf Schenda notes in the preface of the book: Researchers are fascinated by three aspects of the centuries-long Italian narrative tradition:
the tradition of square culture, or the oral and written creations of folk singers, narrators and actors;
the ancient origin of literary narrative tradition - from the Renaissance novellas to G. Basile's «Cunto,» which has had a tremendous impact on the development of fairy-tale as a folkloric genre;
the survival of such narrative forms in the 19th and 20th centuries.
Rudolf Schenda argues that the fortunate combination of all these three aspects (the popular song, the literary Cunto and the collective narrative tradition) has given the Italian narrative body its unique intensity.
Fabio Mugnaini's book is divided into two major parts: comments and analysis of narrators and narrating, and 83 collected dialectal narratives written down in simplified phonetic transcription and their counterparts in standard Italian. The analytical part of the book treats the following topics:
a throrough overview of the cultural background of the San Leonio area: its ethnology, history, language, etc. and the changes during the 1990s;
the associations between sociality, work and festivities, the variation of narrative performance in groups of different size and unity, etc.;
the social status of male and female narrators, their location with special attention paid to random narrators (beggars, travelling craftsmen, monks, nuns);
a characterisation of Fabio Mugnaini's two prominent narrators, an analysis of the information, comments and stories they provided with attention to some characteristic features of a well-known story-teller;
three distinct narrative forms;
characteristics of the narrative tradition and its origin;
a short biography of all the 29 storytellers interviewed;
To facilitate classification and recognition of stories presented in the book, the list of local story titles is accompanied by a list of respective conventional titles, including the type name and number of the story according to the 1961 edition of the Aarne-Thompson register of narrative types. Each story is comparatively classified according to the AaTh categorisaton and G. D'Aronco's 1953 typology of the Märchen types of Toscana; G. D'Aronco's typology is based on all fairy-tale texts collected from the Toscana region up to the 1950s.
Fabio Mugnaini's interpretation of texts and their underlying contexts is strictly based on ethnological principles: he has used his personal experience of growing up in the Topina agrarian community, demographic data about the San Leonino congregation of Conio from different archival sources, and has applied different empirical techniques to observing the participants and to interviewing them in order to acquire new ethnohistorical information. The results are amazing due to the selected study group - talented narrators who are also accepted narrative creators.
Thus from male and female narrators we learn how memory works, how a fairytale or a joke is constantly reproduced like a puzzle put together from bits of memory. The in-depth analysis into the narrative competence of the storytellers reveals that there is no specific fairytales, which would correspond to the narrative types by Aarne-Thompson; every narrative is connected to the narrator and retains its individuality through the executions and scene of the story to distinctive characters - a wily slave in the peasant community, for example. Each community tends to prioritise its own experience.
The collection of fairytales is innovative even from the wider perspective: Mugnaini has tried to avoid censure so characteristic to the Grimm Brothers or Doctor Pitré. So we find ourselves amidst the reality of erotic stories, comparable to the works of Basile, which later have been published only in half-illicit editions.
The author introduces the readers to a surprisingly active world, which contains everyday life, work, social interaction, but also various communicative forms, laughter and sociability.
Fabio Mugnaini is currently working with the Department of Philosophy and Social Studies at the University of Siena in collaboration with the chairs of Ethnohistory and Cultural Anthropology. His essays on the forms of modern popular culture have been published in several international folkloric journals (La Ricerca Folklorica, Culturas Contemporaneas, Narodna Umjetnost, Terrain). The current collection is an anthology of texts representing the oral narrative tradition. The stories have been collected between autumn 1983 and spring 1984 for a graduate thesis.
The collection has been published in the scientific series Laboratorio EtnoAntropologico, which promotes research into ethnology and anthropology, encourages scientific interuniversity research projects on ethnographic memory, comparative essays, research into morphological patterns, the presentation of ethnic reality, and also welcomes collaboration from researchers and scientists, whose treatises comply with the journal's general tendencies.
The book should be of interest to scholars of different fields, primarily among folklorists, folktale researchers, ethnologists, sociologists, textual critics, Italian philologists, etc; but also among those interested in fairy tales.
Merje Kala
---
The Brier Maiden1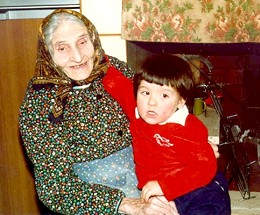 An example of a Märchen from the book by Fabio Mugnaini. The same story in Estonian and Italian can be found in the journal Mäetagused (http://haldjas.folklore.ee/tagused/nr15/muina.htm). Information about the narrator provided by the author: ANNINA, born in 1898, an illiterate farm wife from Gaiole-in-Chianti, who was wedded in San Leonino to a day labourer, and has lived together with Attilio, her brother-in-law, and Lisena, her sister-in-law, and her grandchildren. She narrated two short stories, and another one with her grandson Claudio. 2He told historical biographical jokes and performed a song Susanna, Dance with Me.3
Once upon a time there lived a man with three daughters. He had three daughters, you see. So he tells his daughters: »My dear daughters, I have to go to the army,» - and their mother was dead -, so he says «And I must leave you. What shall we do, can you keep your honour?»
The Brier Maiden was the youngest, but she was clever, even more so than the other two. «Oh yes, dear father, you know that. Look, here's what you should do: you should give each one of us a flowerpot with a freesia-plant, 4she who can keep it fresh, has kept her honour.»
«Yes,» said her father and gave each of them a flowerpot with a freesia-plant. Not far from them lived the King, who had a garden, a beautiful garden.
And one morning, a few days after the father had gone to the army, the eldest sister said. «Only look at the roses in the King's garden!»
But the King liked the Brier Maiden, but the girl teased him; she didn't want him, she teased him. Hmm.
«Go ahead,» told her the Brier Maiden, «He won't say anything, go, go,» - you see, and she was the youngest -, «he is very nice.»
«What d'you think he could do to me,» said her sister. «I'll go and pick a rose, two rose, as many as I can carry.»
«Go ahead, he won't say anything anyway.»
But as soon as the eldest sister had plucked a rose, the King was there: he seduced her, even though he liked another (but then again, he liked them all!). Oh well, hmm, there he was, the girl had just entered his garden.
«What are you doing?» said he.
«I say, Your Lordship, I will just pick a flower and leave.»
«No, no,» said the King, «take as many as you wish, but later,» he said, «you must come to my castle and have a cup of coffee with me».
«No, Your Lordship, there's no need for that,» she replied.
«No, no, you have to come!»
«Oh alright, I will come then.»
Now, you see! She went and drank coffee with him, took his roses and left.
Back at home when she was climbing up the stairs: «Brier Maiden.»
«What is it?» asked she.
«The King sends his regards.»
«And your freesia-plant sends its regards, it's all dried out!»
Oh, damned! Her plant had dried out: she was pregnant. Hmm, then ... then some days later the younger sister wondered: «Would you look at the lemons in the King's garden!» said she.
«Well, go ahead, « told her the eldest sister, whose freesia had withered, «well, go ahead,» said she. «The King is so nice and won't say anything, go ahead!»
So she went. The King was already waiting, seduced the younger sister, but she was clever, you see, - oh, you'll hear how clever she was,- and as soon she had plucked a lemon: «Look, you can take as many as you wish, but then come to my castle for a cup of hot chocolate, will you?»
«No, what d'you think of me, Your Lordship, I won't come, no...»
«Yes you will!»
Well, and so she went, she went too. Same old story.
Before leaving the girl asked: «Isn't there something you want me to do, your Lordship?»
«Send the Brier Maiden my regards.» Well, well...
«Brier Maiden,» said she, climbing up her home stairs, «the King sends his regards.»
«And your freesia-plant sends its regards, it has all dried out!»
«Madona!» she yelled. «What shall we do, when our father returns, our plants have dried out and the Brier Maiden's is still fresh, what shall we do?»
«Well, let's be clever,» said one. «Let's show him the Brier Maiden's plant.»
«Well then,» she replied. «Let's show him mine, when father returns, let's show him mine and pretend like we all had fresh plants, and we'll wait and see.»
Hmm. Now listen, what she did. Three or four days passed and she said (look, now, wasn't she clever!). So she says: «Would you look at the oranges in the King's garden!» She said so, - but, look, isn't it good to be clever, you see?
«Go, dear child, go,» were her sisters pleased.
«I will go there, yes I will, and I'm not scared.»
She took a piece of rope and tucked it in her pocket. As soon as she entered the garden: «Oh, I finally found you,» said the King. «Take all you want, but then come into my castle.»
«I say, Your Lordship, I,» she said, »I will not come to your castle, since I don't need anything.»
«Then, let me take a short nap in your lap.»
«Come on then,» she agreed. When the King had fallen asleep, she tied him to an apple-tree, as there were apple-trees, you see, very beautiful, and - off she went. Hmm.
«Well?» when she was back at home. «How did it go?»
«It went well. He wanted me to go and have a cup of hot chocolate with him, but I didn't go, and you know what he did: wanted to sleep in my lap, and I let him fall asleep and tied him up and left.»
And her plant was still fresh.
«Did you see, hers was still fresh, and what will our father say!»
But they had an altogether different problem than their father: their bellies were growing.
And him, the King woke up: «Oh look,» he said, «what she did to me, tied me up. But she will pay for it, one day she will pay for it, she plays all kinds of tricks on me, but she will pay for it!»
Then the girls' father returned, «How were you, my children? How did it go?»
«Oh, it went very well, dear father.» And they showed him the fresia-plant, the Brier Maiden's plant, you see. And he, the poor thing, was pleased when he saw the flowerpot and didn't worry about the other two. But then he saw that these two girls were swelling: it was a sin that made them swell, you see! And then the Brier Maiden told him: «Look, dear father, their plants dried out, but don't worry. I know, what to do, don't worry, I know.»
And so they gave birth to a child, one after another. But the King was so in love with the Brier Maiden that he fell ill and laid in bed. And the girl, she knew that the King was in sickbed, as he was so madly in love, said: «Here's what I'll do: these are the King's children and he has to accept them.»
She takes a basket, a laundry basket, as they were with two handles... she took the two children and hid them under the flowers, such beautiful flowers! And she goes to the King's castle and shouts under his windows: «Who wants to buy roses and flowers to cure heartache!»
The King had a groom and the King asked him: «Who's shouting out there?»
The groom replied, «There's a girl, so beautiful it's hard to imagine, so very-very beautiful.»
«Well,» said the King, «Let her step inside, she asks who wants to buy roses and flowers to cure heartache, quite so, let her inside.»
And she came in. Came in with all them beautiful roses in the basket. «Now, gentlemen,» said she, «I have to go to the village to buy some more roses, but you make your choice and I'll come back later for the basket.»
Well, what do you know! They went through the basket and found the two children.
«Madonna!» cried the King, «See what she did to me! This time she was even better! These kids are her sisters', those who came for a cup of coffee. She took them and brought them to me! Well, take them,» he then said to his groom, «and take them to the hospital.» You see, he didn't marry these girls; those girls before, who gave birth to the children, they repudiated them, and were taken to the hospital. And they would have been taken to the kindergarten, they would have been brought up, you never know, but then again, it is a novella, and you never know how ... whether it will become true or not.
But this happened.
«Now, she has played so many tricks on me, she will pay for it, she will pay for it.»
But the girl no longer went for a walk with her father and sisters.
«Brier Maiden, why don't you come?» But she was afraid, because she had taken the children to the King, you see.
«I won't enjoy it anyway, dear father, I'll stay home.»
She stayed behind and her sisters still went out with their father. One day the King met their father and told him, «Look, there's something I need to tell you.»
«What is it you need to tell me?»
«I want your daughter, the Brier Maiden, to marry me. Let me marry her, if you tell her that she should marry me, then it's all right, otherwise I'll kill you.»
The King would've killed her father, you see, he would've killed her father! Father returned home and told her that, and the Brier Maiden, «Why, that you should die? No, if he told you he'll kill you, then I will marry him, you don't have to die because of me.»
Well, listen how it went. The King married her, but the girl said, «He will kill me anyway, I played so many tricks on him, but I know what to do.» She was a clever lady, you see if you could find someone so clever! Now, listen what she did.
Well, and how was the wedding? Oh, boy! it was a true royal wedding! So very-very-very-very beautiful, but then, he was a King! And what did the girl do: she made a puppet out of sugar and honey, a large and tall woman, whom she made to speak from under the bed, nice and easy. When the darkness fell, the King said:
«Now you'll see where you stand. You played so many tricks on me that I have to do the same to you!»
«But,» she said, «Come to bed in the dark.»
«I'll find you anyway.»
«But still, come to the bed in the dark.»
And then, when he had gone to bed, the girl was under the bed and the puppet was in the bed, the girl made it talk. And the King said: «Do you remember, if you remember it well, how I was in love, and you didn't even want to talk to me?»
«Yeah,» said she, she spoke herself, the King was in the dark, he didn't know that it was a puppet, you see. «Yeah,» she said.
«Do you remember, if you remember it well, how you tied me to the apple-tree?»
«Yeah,» said she, with the puppet.
«Do you remember when you brought me your sisters' children?»
«Yeah,» said she.
«Here you have it,» said the King and stabbed her with a knife. Then the puppet broke and one piece fell into the King's mouth.
«Oh, my sweet wife was made of sugar and honey, if I still had her I would love her with all my heart.» Then the girl came out from under the bed and told him, «Do you want me? I'm still here.»
They came together and enjoyed each other.
didn't give me anything
gave me a sugar candy
I put it in the keyhole
it should still be there. Did you get it, isn't it nice!5
---
Comments
Published on pp. 239-247. Translated from Italian with consideration to the original text in the Tuscan dialect. The original title Mazzasprunigliola means in Tuscan dialect 'sprig' (mazza') + 'thorny shrub, bramble-bush' (prunigliolo). The name should refer to the main character's hostile, 'thorny' temper.

Claudio was born in 1973 and was in the third grade at the time of recording. He was an attentive listener of Annina's stories and has included two of them in his own repertoire, performing one of them together with his grandmother (text on p. 80).

Passage from p.80 in F. Mugnaini's book.

F. Mugnaini notes, «An unidentified plant, judging by my conversation with the informers, it cannot be freesia, rather some aromatic herb.» (p. 239)

Reference to the narrative type: AT 883B (The Punished Seducer) + AT 879 (The Basil Maiden. The Sugar Puppet. Viola), DA II 919. One of the analogous variants is DA II 919, in the supplement to the DA index in Thompson the text is categorised under type 883B, with no regard to the motif of the 'sugar puppet', characteristic to type 879.