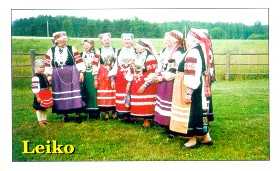 Vaike Sarv (producer)
Leiko. MC. Tartu, 2000.

Leiko, founded in 1964 by the then trade union leader Juta Kalevi, is the oldest Setu folklore ensemble. Earlier, women used to sing both at home and outdoors, at work and parties.

Since 1976, Leiko is led by the former math teacher Veera Hirsik. In 1977, Leiko was named a folk choir.

Members of the choir have changed. Members since the very beginning are Maria Rõzhikova and Liidia Lind; more recent joiners are Maria Raudla, Jekaterina Sai, Anastassia Puhm, Maime Kapten, Anna Kõivo, Anna Kuremägi, Anna Kullimaa and Maria Enno. Together with the musician Nikolai Kõivu, the choir has currently a total of 13 members who meet in the Värska cultural center.

During its 35 years of action, Leiko has performed on many Estonian folkloristic parties as well as on the radio and television. Leiko has brought the most unique of Setu folk songs to the Baltics, Austria, the Netherlands, France, Great Britain and the USA. Also, Leiko has sucessfully performed in the Von Krahl theatre with «Estonian Games. Wedding.»

The repertoire of the ensemble covers all Setu song types: labour songs, songs that accompanied calendar and family festivities as well as lyric songs. Many archaic songs have been accommodated to contemporary life and include long improvisational parts. The name Leiko comes from «Horse Game» (No. 4), well-known in Setumaa, each verse of which ends with the refrain heiko-leiko.