EKM Teaduskirjastus
ESTONIA AND POLAND: CREATIVITY AND TRADITION IN CULTURAL COMMUNICATION. Vol.1: Jokes and their relations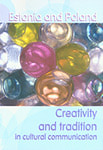 Autor: Liisi Laineste, Dorota Brzozowska ja Władysław Chłopicki (Eds.)
Välja antud: 2012
ESTONIA AND POLAND: CREATIVITY AND TRADITION IN CULTURAL COMMUNICATION
Volume 1: Jokes and their relations

This book deals with the creativity and tradition of cultural phenomena in the rapidly transforming post-socialist societies. Parallel research articles by Estonian and Polish authors set out to analyse media texts and other contemporary (folkloric) narratives in order to pin down the influence of political and economic changes on culture. Research material for Volume 1: Jokes and their relations includes primarily humour, but also proverbs and online aggressiveness. The results throw light on the similarities and differences in the ways cultural narratives have changed in the past decades and identity issues in the former Eastern Bloc are reflected in everyday texts, either online, on television, or in face-to-face communication. The analysis of culturally significant texts also helps to redefine the borders and influences of the local and the global in creativity and tradition.
Valdkond: