EKM Teaduskirjastus
Folklore Studies: Mission Possible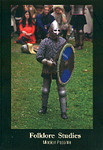 Välja antud: 2014
Hind: 10.00 EEK
Folklore Studies : Mission Possible
Articles represent research performed by the Department of Folkloristics, ELM, Tartu.

The studies concern interrelations between religiosity, figurative speech, humor, legends, internet lore, analyse active processes, dynamics and interrelations between folklore, society, and cognition, as well as a plethora of recently emerged phenomena.

This compendium is dedicated to the 90th anniversary of the Latvian Folklore Archives.
Valdkond: