Udmurt Mythology and Folklore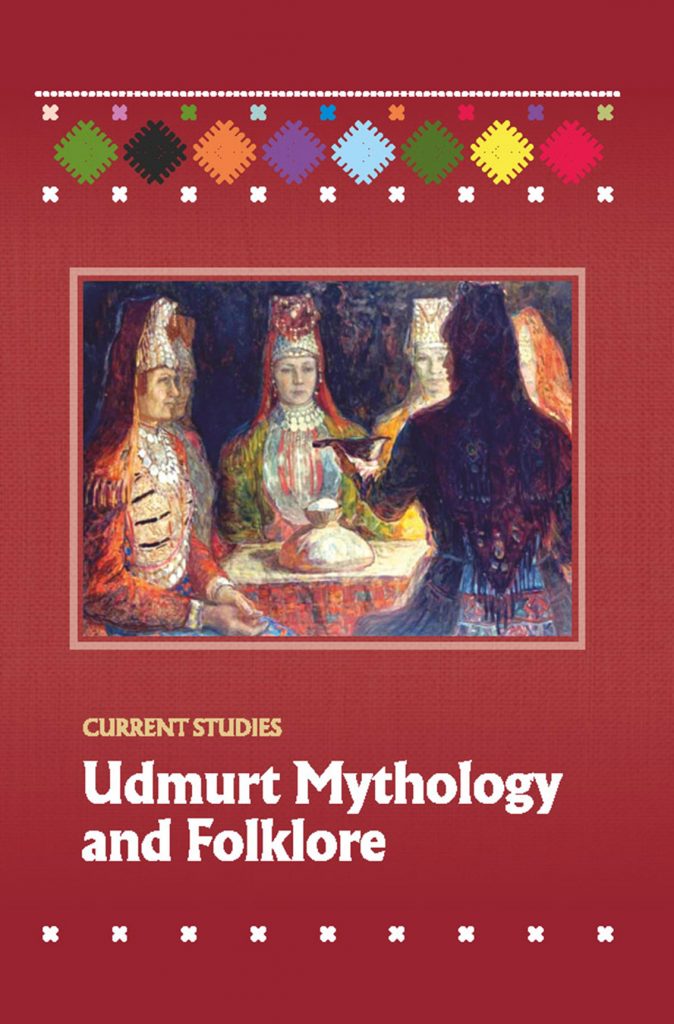 The book you have in your hands is not an ordinary book. It is the first wider approach to Udmurt folklore in English. Udmurt folkloristics has a relatively long history: taking into account the general pattern of cultural development it is more than one and a half centuries. Unhappily for international communication, it is overwhelmingly in Russian. This is the first systematic attempt to open up this rich material to the international scholarly community.
Editors for this issue are Mare Kõiva, Nikolai Anisimov and Eva Toulouze.
Full Issue
---
Articles
Preface: Ninety Years – Something Old and Something New (9-30)
Mare Kõiva, Eva Toulouze, Nikolai Anisimov
https://doi.org/10.7592/Sator.2021.22.00
Studies in Udmurt Folkloristics
Rituals and Socialisation in the Udmurt Folk Calendar (31-72)
Tatiana Vladykina, Galina Glukhova, Tatiana Panina
https://doi.org/10.7592/Sator.2021.22.01
Transition Periods in the Udmurt Folk Calendar and Their
Spirits (73-82)
https://doi.org/10.7592/Sator.2021.22.02
About vozho, the Spirit of Transition Time and Formation of Holiness among Udmurt and Komi (83-106)
https://doi.org/10.7592/Sator.2021.22.03
Water Bodies in Besserman Mythology and Ritual (107-140)
https://doi.org/10.7592/Sator.2021.22.04
The Udmurt Pantheon and the Udmurt Worldview (141-150)
https://doi.org/10.7592/Sator.2021.22.05
Inmar, the Udmurt God, in Modern Udmurt Literature (151-166)
https://doi.org/10.7592/Sator.2021.22.06
Forest Spirits in the Udmurt Worldview (167-196)
Tatiana Panina, Tatiana Vladykina
https://doi.org/10.7592/Sator.2021.22.07
Home Spirits in the Udmurt Mythology (197-224)
Tatiana Vladykina, Galina Glukhova
https://doi.org/10.7592/Sator.2021.22.08
A Systematic Investigation of Sacred Space in the
Kama-Vyatka Region: Udmurt Materials (225-256)
https://doi.org/10.7592/Sator.2021.22.09
Tradition and Diversity among Udmurt Sacrificial Priests (257-308)
https://doi.org/10.7592/Sator.2021.22.10
"Seeing off a Recruit": The Ritual and Its Songs in the Udmurt Traditional Culture (309-350)
https://doi.org/10.7592/Sator.2021.22.11
The Ritual Importance of the Chuk, a Symbolic
Bundle of Thread (351-376)
Tatiana Vladykina, Galina Glukhova, Tatiana Panina
https://doi.org/10.7592/Sator.2021.22.12
A Contemporary Commemoration of the Dead: Yyr-pyd s'oton in Southern Udmurtia (377-396)
https://doi.org/10.7592/Sator.2021.22.13
Sound in Udmurt Rituals (397-426)
https://doi.org/10.7592/Sator.2021.22.14
An Udmurt Flute (427-438)
https://doi.org/10.7592/Sator.2021.22.15
An Udmurt Exceptional Performer, Dzhakapay (439-468)
Irina Pchelovodova, Nikolai Anisimov
https://doi.org/10.7592/Sator.2021.22.16
Presence Presence of Witchcraft in the Contemporary Udmurt
Village (469-502)
https://doi.org/10.7592/Sator.2021.22.17
Book Reviews
The Udmurt Ritual Year and Its Roots (503-506)
https://doi.org/10.7592/Sator.2021.22.18
How the Udmurt Understand the World, and Man in It (507-516)
Eva Toulouze, Nikolai Anisimov
https://doi.org/10.7592/Sator.2021.22.19
About Tatiana Vladykina
Tatiana Vladykina's Contribution to Udmurt Folkloristics (517-528)
Aleksey Arzamazov, Galina Glukhova, Tatiana Panina
https://doi.org/10.7592/Sator.2021.22.20
Grateful Remembrances (529-532)
https://doi.org/10.7592/Sator.2021.22.21
My Teacher, My Master and My Friend for Life:
Or the Person, the Scholar Who Determined My Fate (533-538)
https://doi.org/10.7592/Sator.2021.22.22
She Taught Me to See the World (Dedicated to Tatiana
Grigoryevna Vladykina) (539-)
https://doi.org/10.7592/Sator.2021.22.23
About Tatiana Vladykina (542-547)
https://doi.org/10.7592/Sator.2021.22.24
To Tatiana (548-552)
https://doi.org/10.7592/Sator.2021.22.25
A Mind That Understands Words… (553-562)
https://doi.org/10.7592/Sator.2021.22.26
---